Monday through Friday, 11:30 am
Mass is celebrated Monday through Friday at 11:30 am in the beautiful Shrine building located at 8433 Bailey Rd., just across the drive from the National Shrine Museum.
Mass Video Recordings
You can watch a video recording of our daily Mass here on our website. Visit our YouTube channel to view our archive of recorded daily Masses. Please note that due to technical reasons, not all Masses may be available.
Special St. Therese Event
Looking through Glass – "Resurrection Discipleship in the light of St. Therese"
Come enrich your Catholic or Christian lifestyle in the Easter journey of life in the Resurrection.
The Society of the Little Flower sponsors presenter Mr. Kevin Keller, the Lead Coordinator of the National Shrine and Museum of St. Therese.
Mr. Keller will speak on the Christian journey in light of the Resurrection through the story and perspective of the stained glass at the National Museum of St. Therese.
Refreshments and Discussion to follow.
This is no entry fee or cost. We simply ask that all attendees sign up to receive Society of the Little Flower Name Labels and enrollment on the donor list for occasional mailings from the Society of the Little Flower.
When: May 1st, 2022. Talk 2 – 2:45 pm, refreshments until 3:30 pm
Where: Talk inside The National Museum of St. Therese down the main entry past the Carmelite Gift Shop at 8501 Bailey Road.
VISIT US
Guided Tours
Learn about the the life of St. Therese and more through our audio and guided tours. Reserve tours for large groups.
ENROLLMENTS & DEVOTIONALS
Let the Carmelites remember your intentions
Lighting a candle for personal intentions or a loved one is part of a beautiful tradition in our Church.  We invite you to join us in this tradition by requesting the lighting a vigil light at the Shrine.
Join Us For Our Seasonal Events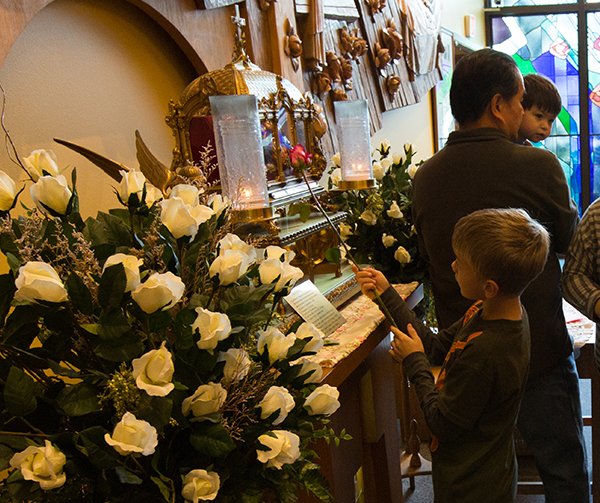 Join us for our seasonal events
Gather with friends and the faithful for special seasonal events at the National Shrine or consider joining a special religious pilgrimage.
Daily Mass
Monday through Friday
11:30 am
Shrine & Museum Location
National Shrine & Museum of St. Therese
8433 – 8501 Bailey Road
Darien, IL 60561